While it's always vital to seek out the best publicly available offer for the credit card you're interested in, it's also important to determine if you can earn a referral bonus for opening up a particular credit card.
Several of the credit card issuers have what's known as "refer-a-friend programs" that allow you to earn extra cash or bonus points for referring a friend or family member.
Instead of simply going straight to the credit card issuer's website, or using some blogger's affiliate link (watch out!), it's wise to check out referral links too so YOU actually profit from the opening of a new credit card.
This is a particularly useful strategy for couples, who can maximize their sign-up bonuses with these add-on points and perhaps earn enough for a nice round-trip flight somewhere.
Not All Credit Card Issuers Offer Refer-a-Friend Programs
As mentioned, some credit card issuers have a referral program, not all of them. And of those that do, they don't offer a referral bonus on all of their cards, just on some of them.
For example, Chase has a lot of different credit cards, but only allow you to refer friends and family to certain cards, such as Chase Freedom and Freedom Limited, Chase Sapphire Preferred (not Reserve), and Chase Ink Cash but not Chase Ink Plus, which actually has since been discontinued.
Our Marriott Rewards card wasn't eligible, but we've heard it has been in the past, though the Southwest cards from Chase apparently generate a referral.
You can test any Chase card you have by entering in your last name, zip code, and the last four digits of the card in question. It will either populate the screen below, or it will tell you that the card isn't eligible for referrals.
Chase Refer-a-Friend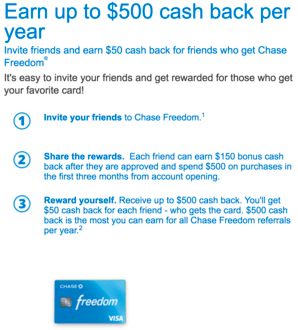 If you see this screen, you can send out email invites to up to 25 people per 24-hour period, or blast your social media accounts via Facebook or Twitter. Depends how annoying you want to be here…
With Chase, the max you can earn is 50,000 Ultimate Rewards (or $500) per year via the referral program. So you may not need to annoy a lot of people.
American Express Refer-a-Friend
American Express also allows credit card referrals, though their process is a bit different, and perhaps easier. You simply log-in to the referral page using your normal credentials and it will show you all available cards you can refer friends and family to.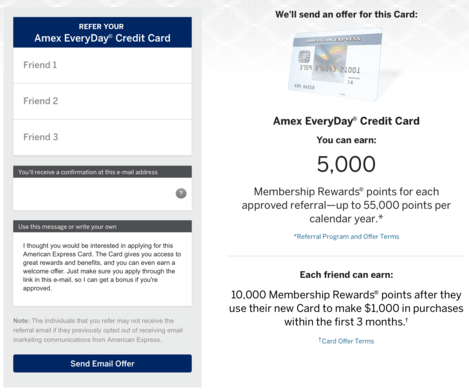 As you can see, the Amex EveryDay Credit Card is the only option, and it earns 5,000 Membership Rewards points for each approved referral, with a maximum of 55,000 points per calendar year. That's 11 approvals per year.
Discover Refer-a-Friend
With Discover, there are refer-a-friend programs for both their Discover it and Discover it Miles cards, though we found out we were only eligible for the standard Discover it card.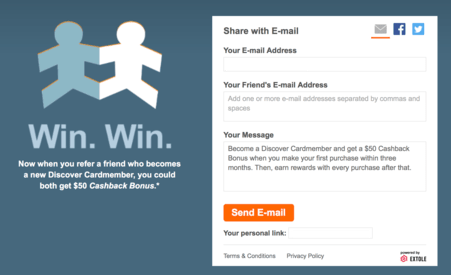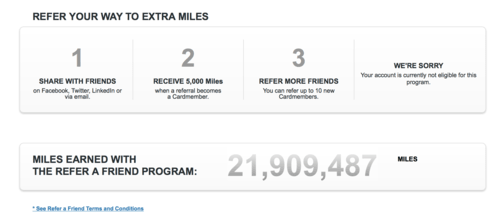 You can earn a $50 Cashback Bonus for each friend who applies and gets approved, with a maximum of $500 per calendar year.
Update: We (and maybe you) are now eligible to refer friends to the Discover it Miles card. You get 5,000 miles for each friend who becomes a cardmember and they can earn 5,000 miles after their first purchase within 3 months.
The same maximum of 10 referrals per calendar year applies for Discover it Miles referrals.
In summary, of the four major credit card issuers, Amex, Chase, Citi, and Discover, Citi is the only company to not offer a refer-a-friend program.
Links to each credit card issuer's refer-a-friend program…
Amex – here
Bank of America – doesn't have a credit card referral program
Barclaycard – targeted 5,000 bonus mile referral for the Arrival+ MasterCard
Capital One – doesn't have a referral program
Chase – here
Citi – doesn't have a referral program for its credit cards in the United States (other countries are a possibility)
Discover – here
US Bank – has a refer-a-friend link for the FlexPerks card (5,000 FlexPoints per approval)
Wells Fargo – no referral program
Pro tip: These referral programs can and will change over time so be sure to always double-check before you apply for a credit card to ensure you don't miss out on a nice little payday.
Also take the time to compare all available offers so you don't miss out on something better, even if you lose out on the referral in the process.