So you've got 100,000 some odd credit card points. Now what? Well, redeem them. But how? Good question, it's often not as easy as it looks. Fortunately, there are 12 million travel blogs here to help you…
Let us join the fray and answer a question regarding British Airways awards, which are often frowned up because of the massive surcharges that accompany travel redemptions.
The Problem with British Airways Award Bookings
In a nutshell, British Airways has a surcharge problem. A big one. They can't help but charge customers hundreds (thousands) of dollars to fly with them, even if you use tons of points to book a "free flight."
What's the point of using points (sorry for the pun) if you also have to pay a ton of cash too? Might as well just buy a revenue ticket and earn miles, right? Well, there isn't a point, which is why points and miles are often redeemed via other avenues.
But there is a solution. And that's to book British Airways awards (or their partners like American Airlines) using a different carrier, such as Iberia, a Spanish airline.
It works because Iberia charges much lower surcharges, though they still charge these fees in many cases. It's just that they're a fraction of what you'd have to pay if you booked award travel directly with BA.
Enough talk, let's look at a clear-cut example to illustrate the costs and the savings of using this loophole to book an award trip.
Flying Business Class from the West Coast to London with Points
It can be tricky to land a cheap business class flight award ticket to Europe unless you're willing to go to some random cities.
But say you want to travel from the west coast of the US (LAX or SFO) to London. It's a very common destination and one that can be expensive to book with miles in a class outside economy. And let's face it, who wants to sit in economy for 10 hours?
Well, it's very difficult to find business class saver awards via partners like United on this route. Typically, you'll have to fork over 150,000 miles each way if you want business class. Or 170,000 for first class. That's just too much.
Often, you'll need to travel to some other European city, like Dublin, Brussels, or Madrid, or some place in Germany to save on miles and/or get a business class or better award at the saver rate of 70,000 miles or less each way.
That might lead you to try other airline transfer partners, such as British Airways.
If you use the BA website to book a business class award from LAX to LHR, you'll often be presented with some options to fly business class from the west coast to London using miles.
While that might at first glance be seen as the answer you've been looking for, you'll quickly be discouraged by the outrageous surcharges associated with the ticket.
For a pair of roundtrip business class flights to/from the west coast to London, you might be looking at fees of $2,500 or so, plus all the miles you have to relinquish to get there.
Most people probably won't be okay with that, or even able to afford it. Factor in the cash value of the points you're giving up and it might be like spending a couple grand per ticket. No Bueno.
Using Iberia to Cut the Fees

If you do the same exact search at Iberia, you should see the same flights available, but with much lower surcharges. The same exact flights that cost $1,250 per ticket in fees might only set you back $500 each.
Yes, you still have to pay fees with Iberia, and they're much more than those typically tied to United award flights, but if there's no availability in business class through other alliances, it might be worth it to you to pay the fee to get your business class saver tickets.
The convenience of flying to the airports you'd like to fly to might well be worth it, not to mention the fact that you won't have to pay for connecting flights because you won't be forced to fly into adjacent airports throughout Europe.
Our guess is many people would be happy to pay $500 to fly business class roundtrip between the west coast and the UK while giving up the typical amount of points these saver flights cost.
The problem is Chase Ultimate Rewards don't transfer to Iberia, only to British Airways. And while Amex MR points can be transferred directly to Iberia, the ratio is a poor one at 250:200.
However, if you follow some steps, you can transfer miles between the two programs and potentially save some dough while expanding your redemption options.
Key Steps to Ensure You Can Transfer Avios from British Airways to Iberia
This whole setup works because British Airways and Iberia use the same award currency, known as "Avios."
There are some important things you need to know about the Iberia frequent flyer program to ensure this works.
If you're moving points from a British Airways reward account to Iberia, your Iberia account and BA account need to have been open for 90 days.
Additionally, some type of activity has to have taken place in these accounts in order to transfer BA miles to Iberia.
The best way to ensure you're all set to go if/when you want to move Avios from BA to Iberia is to open an Iberia and BA frequent flyer account ASAP, whether you have travel plans or not.
Tip: Make sure the information on both accounts matches 100%, such as your name, e-mail address, birth date, etc. If they don't, you could run into trouble when attempting to execute a transfer between them!
Then transfer some nominal amount of Avios into the accounts to generate activity. There are also ways to earn Avios doing surveys, participating in social media, and signing up for partner deals, apparently.
But if you have an Amex card that allows transfers to airlines, you can link up your Iberia account and transfer a small amount of Membership Rewards that way as well and without the 90-day waiting period. However, the transfer ratio isn't 1:1 like it is with Chase, it's 250:200. However, they sometimes have promos that better 1:1, so look out for those.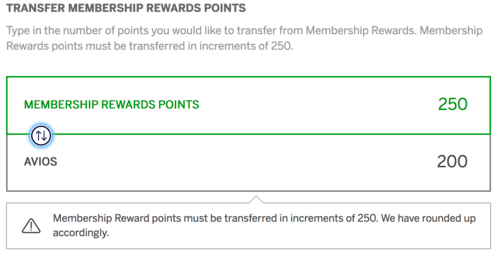 To activate the Iberia account, simply move the minimum 250 MR points to Iberia. You'll wind up with 200 Avios.
This is why it's always good to leave some small amount of rewards currency in all your accounts…
To activate your BA account, move a minimum of 1,000 UR points from Chase.
Once 90 days have gone by, you can "combine your Avios" via the BA website. Or the Iberia website. Or Avios.com. It can get pretty messy, so follow the many instructions others have laid out.
Essentially, if you're wanting to redeem an Iberia flight with Ultimate Rewards, you need that Iberia frequent flyer account seasoned for 90 days. So get cracking now!
Another issue with transferring Amex MR to Iberia is the lag time. It can take a day or two (or more) for the points to transfer. They say 4-7 business days!
With Ultimate Rewards, the transfers seem to be instant. That can come in handy if you don't want to miss out on limited inventory award seats for a big trip.
In any event, make sure both your BA and Iberia frequent flyer accounts are active and seasoned before you try to transfer points among them.
Once they are, you can move Ultimate Rewards from Chase to BA, and then to Iberia, and save lots of money by avoiding costly surcharges.
It gives you a new redemption option in a roundabout sort of way, but can be well worth the work once it's all set up.
We looked at a business class booking from LAX to EDI this summer that had surcharges of ~$2,500 on the BA website when using Avios. It was actually an American Airlines flight.
The same exact flight when booked with Avios on the Iberia website only charged ~$1,000 in fees. That's just one of many examples out there.
You may also save on the number of Avios needed to book the flight when using Iberia instead of BA.
So there you have it. Chase Ultimate Rewards don't transfer to Iberia directly, but including one extra step means you can redeem them by way of BA.
Pro tip: Sign up for any and all frequent flyer programs you think you'll ever use immediately to ensure you don't get caught up with any seasoning requirements. You may also gain access to special deals and unexpected free seat upgrades along the way!
(photo: BriYYZ)