Most blogs, bloggers, credit card websites, etc. value credit card currencies, such as points and miles, at a certain amount based on what they think you can squeeze out of them.
For example, a recent TPG post valued Chase Ultimate Rewards at 2.1 cents each, whereas MileValue values UR at a flat 2 cents each.
The thing with all these valuations is that it depends what you actually use the miles for, and what the cost would be to just pay for those redemptions out of pocket instead.
In the real world, it's not all that helpful to place a value on points because there are so many different combinations and outcomes that it'd be impossible to sum it all up in one single point value.
But forget about all that. Let's just focus on how much points are worth if you simply cash them in, for, well, cash.
We're talking a check or direct deposit to your bank account, or a statement credit. Not a trip on an airline, a hotel stay, or an iPad.
Chase Ultimate Rewards Are Worth a Penny in Cash
While the valuations can definitely be higher if redeemed for travel, if you simply want cash for your Ultimate Rewards you'll get a penny apiece.
In other words, if you have 104,000 Ultimate Rewards points thanks to that massive Chase Sapphire Reserve bonus, you'd be able to cash them in for $1,040. And yes, you can have that money direct deposited into any of your associated accounts in three business days.
Someone might say you're a fool for doing so, but if you want cash, and only cash, Chase makes it easy and doesn't give you a hard time about it. The minimum redemption is $20, but you can take out odd amounts (see above) for the full balance if you wish.
Cash Value of American Express Membership Points Varies
When it comes to American Express, it's not so simple. They allow you to redeem your Membership Rewards points for cash, but only via a statement credit or an American Express gift card. Both aren't truly "cash," but we can still assign a clear value.
The bad news is they aren't worth a penny apiece. In fact, they're worth quite a bit less. If you redeem them for an Amex gift card, which can be used like cash anywhere Amex is accepted as payment, you're looking at .50 cents for each point.
So 100,000 Membership Rewards points have a cash value of just $500. If you're keeping track, that's half the value of Ultimate Rewards points.
If you opt for a statement credit to erase some purchases you already made, you'll get a slightly better .60 cents for each point. In this case, 100,000 MR points are worth $600, but only to cover purchases you already made.
Discover Miles Are Worth 1 Cent Each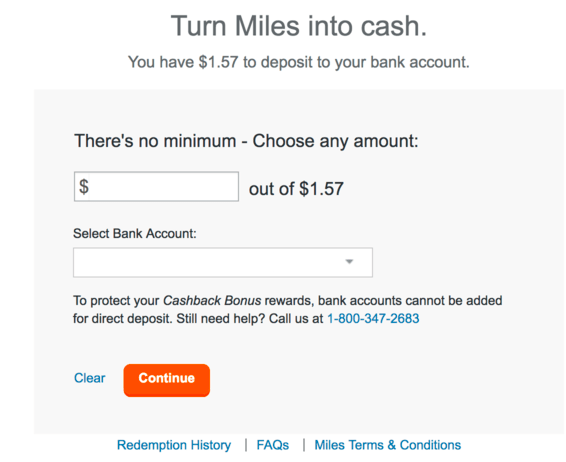 If you happen to have the Discover it Miles card, the math is also very simple. A mile is worth a penny.
However, the card earns 1.5 "miles" per dollar, making the effective cash back rate 1.5% on all purchases.
And like Chase, redemption is a snap. You can request a direct deposit online, and perhaps more importantly, there's no minimum redemption. Yes, you can get a redemption as low as $1.57 (or lower) if you so choose.
Redeem Citi ThankYou Points for Cash
Then we have Citi and their ThankYou Points, which probably won't make you feel very thankful if you cash them in for, cash.
That's right, Citi ThankYou Points (TYP) are worth just half a cent (0.50) each when redeeming for cash, which is a pretty awful valuation. You get the option of requesting a check or applying them as a statement credit.
If you want a check, the minimum redemption is 10,000 TYP for $50. You can also request a $100 check for 20,000 TYP. Either way, not a great deal.
Alternatively, you can request statement credits for as few as 2,000 TYP points for $10. So you get more flexibility, but still a poor valuation.
One "trick" around this is to request a check to pay down a mortgage or student loan – they'll give you a value of one cent per point if you do this, and they just make out a check to the bank you tell them. That's double the value.
Barclaycard Miles Cash Value Is 0.525 Cents
The Barclaycard Arrival Plus earns 2X miles on all purchases. There is an option to redeem for a cash back statement credit with a minimum redemption of 5,000 miles for $25.
Effectively, that means you earn 1% cash back because you get 2X miles on all purchases and the ratio is 2:1 for cash back rewards. But wait, there's more. You get 5% of your miles back when you redeem them, so they're actually worth a slightly better 0.525 cents apiece.
It should be noted that travel purchases earn a 1:1 ratio, or double (1.05 cents apiece), so 10,000 miles equals $100 in value plus 5% of those miles back. However, the minimum redemption for a travel purchase is $100.
Bank of America Travel Rewards Can Be Redeemed for Cash

This one is a bit tricky because Bank of America doesn't post the value of cash back redemptions with regard to the points you earn on their Travel Rewards card. Granted, why would you apply for a travel card if you want cash, but still.
Making it even more difficult to quantify is if there's a banking relationship bonus on those points. The best we could find was 0.9 cents per point via some comments from cardholders. That may or may not be accurate and/or current. Either way, it's probably not the best use of these points.
Capital One Venture Miles Cash Value

If you have the Capital One Venture Card and happen to want cash back instead of a travel credit, know that the value of a mile is half a penny (0.5 cents).
But you get 2X on all spending with Venture, so you effectively get a penny per dollar spent when redeeming for cash, which would be 2 cents per mile if used for travel purchases.
In other words, 50,000 Venture Miles are worth $250 cash or $500 in travel statement credits. It is believed that the minimum redemption is 2,500 miles, though Capital One is pretty good at hiding this information from non-cardmembers.
Merrill Points Are Worth a Penny
This one is fairly straightforward, as far as we can tell. If you open a card such as the Merrill+ Visa Signature Card, you'll earn one penny per Merrill point.
So 50,000 Merrill points will get you $500, though only via statement credit unless you have a BofA/Merrill bank account. Cash rewards start at 3,000 Merrill Points for $30 in value.
Travel redemptions are worth 2 cents because you only need 25,000 Merrill points for a $500 flight.
Nasa Star Trek Points Require a Klingon to Do the Math
Here's a random one to add to the mix, assuming you've applied for a Star Trek credit card from the NASA Federal Credit Union.
Per DoC, Star Trek points are worth 0.704 cents with redemptions starting at 7,100 points. WTF? That'll get you $50, while 14,200 will land you $100. These are statement credits FYI, and apparently can take 1 or 2 billing cycles. Talk about light speed.
As you can see, in many cases you're probably better off going for a 2% cash back credit card like Citi Double Cash if it's simply cash back you're after.
At the same time, some of these travel-oriented credit cards have massive sign-up bonuses that can score you a ton of cash value upfront, even if you forego the huge travel redemptions in the process.
These cash back redemptions can also be helpful if you have no use for the points and want to cash out, close the card, and move on.
How Much Are Credit Card Points Worth (in Cash)?
| | | |
| --- | --- | --- |
| Card Issuer | Currency | Cash Value |
| American Express | Membership Rewards | 0.5-0.6 cents |
| Bank of America | Travel Rewards | 0.9 cents |
| Barclaycard | Arrival Miles | 0.525 cents |
| Capital One | Venture Miles | 0.5 cents |
| Chase | Ultimate Rewards | 1 cent |
| Citi | ThankYou Points | 0.5 cents |
| Discover | Miles | 1 cent |
| Merrill Lynch | Merrill Points | 1 cent |
| Nasa FCU | Star Trek Points | 0.704 cents |
(photo: Marcin Wichary)